Are you noticing extra skin and fullness around your jawline? Considering a facelift but not ready to pay the price or undergo a full surgical procedure? Facetite is essentially a non-surgical facelift that uses radio-frequency energy to help tighten the treatment area and remove fullness around the neck/jawline.
No visible scars
Clinical studies show around 40% of skin contraction
In-office with local anesthesia
1 hour procedure
Minimal downtime, bruising, and pain
What is the process like?
Facetite is an in-office procedure; this saves you the time and money of having to go to a hospital and be under general anesthesia. You will receive local anesthesia in the office and may be lightly sedated as well. Small punctures are made into the area of treatment, where the probe will be inserted. The procedure takes about one hour. During the procedure, the built-in temperature sensors of the device ensure that optimal temperatures are being used for your skin. After the procedure, you will wear a compression device for about 48 – 72 hours.
You will have minimal pain and bruising after the procedure. Although the pain is not severe, you will be given prescription pain medication in case you decide to use it. You should expect to have numbness and mild swelling for the first few days after the procedure. You will be given a compression device to wrap around your jaw during that time. After 3 days, you can remove the compression device. You are then free to go about normal activities. For maximal results, we recommend using the compression device at night for an additional 10 days.
When will I notice results?
You will see initial results immediately. Most swelling subsides within 6 weeks of the procedure. As with most facial procedures, maximal results will be seen within the first 12 months.
How long will my results last?
Results last about 5 years, however, your genetics, diet, and lifestyle play a significant role in the duration of the results.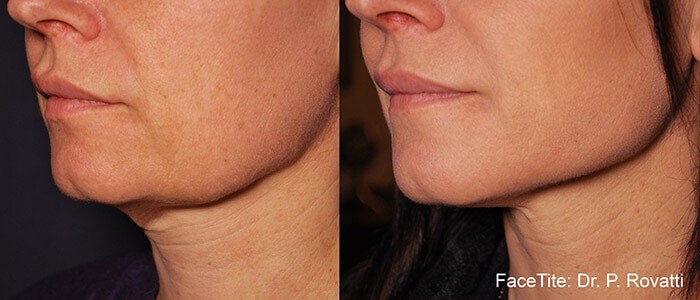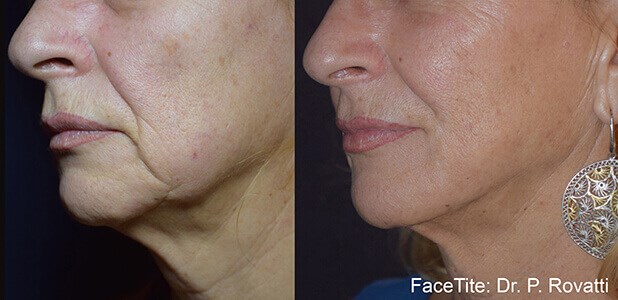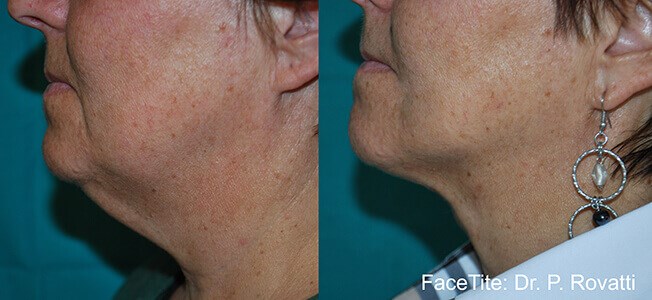 Reviews
"I came for a consult and was put on the schedule for surgery the same day (for roughly a month later). The girls in the office are fantastic and efficient and great with follow up calls and scheduling, etc. Dr. Kelling is lovely and we talked extensively about my history and concerns about my procedure (no fancy stuff, just airflow issues). As for my procedure (septoplasty and much needed turbinate reduction), I am overwhelmingly overjoyed at being able to breathe freely agai...n. I wake up in the morning feeling refreshed and alert and I ask myself if I even need a cup of coffee. I'm no longer a slave to caffeine in the morning, I just drink it because I enjoy it. I can now smell colors! Ok, maybe not colors, but I am moved to tears at least once a day at all the things I can smell and taste again after nearly a decade of deficient airflow. My only regret is I did not find Dr. Saman sooner. Though I did not take advantage of his artistic talent in rhinoplasty (though I would have totally gone for it five years ago), I felt like it was best to overshoot rather than undershoot when it comes to a surgeon's skill. He is very transparent about his procedures and techniques on social media, I found him on Snapchat and followed on Instragram as well and I have to say it didn't take long for me to feel comfortable and confident he could help me. Thank you Dr. Saman! You have helped me heal in more ways than I can express."
- J.A. /
Facebook /
Jul 10, 2018
"My experience has been amazing! From the first day I walked in the door! Jessica is a fireball she got my insurance company inline, the other ladies there are amazing as well! As for Dr. Saman and Dr. Kelly I'm never going to see another ENT EVER! Thank You All for the great care and concern you have shown me! Pastor Charlie Biggurs"
- C.E. /
Facebook /
Apr 10, 2019
"Dr Saman is the best! I am so new to Botox and anything related to facial enhancement procedures. Dr Saman has been patient with me listening to my concerns, educating me what could be good solutions for my needs, he even tells me what I need and what I don't need. He is very authentic and fun to talk to! I am always happy with the results I get. I had Botox done and facial PRP injection and it has been a wonderful experience! His staff are super friendly and very good listeners! The office is very organized when it comes to scheduling. Love this place!"
- R.A. /
Google /
Feb 16, 2019
"great customer service, explains what is wrong and options on corrections well, saved my son's life"
- A.M. /
Facebook /
Jan 04, 2019
"I recommend Dr Saman to everyone if they are looking for reliable,talented, and perfeshional dr."
- L.D. /
Google /
Dec 22, 2018
Previous
Next