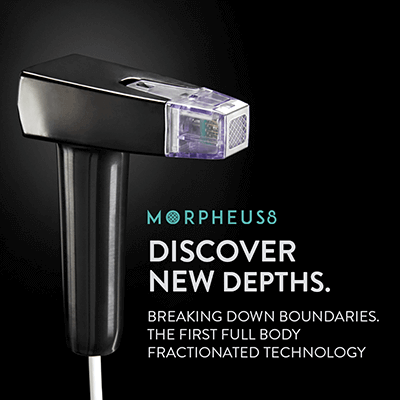 Morpheus8 is a state-of-the-art technology, which uses both microneedling and radiofrequency energy to achieve the best cosmetic results. The process targets deep layers of the skin to rebuild collagen in treatment areas. Unlike microneedling by itself, the coupled radiofrequency energy used in this device allows for maximal results. It is scientifically proven to reduce the appearance of wrinkles, scars, while rebuilding collagen.
Great for acne scars, cellulite, stretch marks, & loose skin
Minimal downtime
Topical numbing
Coupling microneedling & fractional energy into one procedure
Can be used on any area of the body
The benefit of Morpheus8, unlike most lasers, is that it can be used on all skin types. Darker skin types can use it, with much less risk of hyperpigmentation compared to competing methods.
The treatment area should be kept very moisturized in the days following treatment. In addition, we recommend patients use a daily broad-spectrum sunscreen to help avoid the formation of future wrinkles. Patients will typically have pink-colored skin for the first 2-3 days after the procedure. Makeup can be work 24-48 hours afterwards.
You will see results after the first treatment (usually within 3 weeks), but we typically recommend 2-3 treatments in order to see optimal results.


Reviews
"I came for a consult and was put on the schedule for surgery the same day (for roughly a month later). The girls in the office are fantastic and efficient and great with follow up calls and scheduling, etc. Dr. Kelling is lovely and we talked extensively about my history and concerns about my procedure (no fancy stuff, just airflow issues). As for my procedure (septoplasty and much needed turbinate reduction), I am overwhelmingly overjoyed at being able to breathe freely agai...n. I wake up in the morning feeling refreshed and alert and I ask myself if I even need a cup of coffee. I'm no longer a slave to caffeine in the morning, I just drink it because I enjoy it. I can now smell colors! Ok, maybe not colors, but I am moved to tears at least once a day at all the things I can smell and taste again after nearly a decade of deficient airflow. My only regret is I did not find Dr. Saman sooner. Though I did not take advantage of his artistic talent in rhinoplasty (though I would have totally gone for it five years ago), I felt like it was best to overshoot rather than undershoot when it comes to a surgeon's skill. He is very transparent about his procedures and techniques on social media, I found him on Snapchat and followed on Instragram as well and I have to say it didn't take long for me to feel comfortable and confident he could help me. Thank you Dr. Saman! You have helped me heal in more ways than I can express."
- J.A. /
Facebook /
Jul 10, 2018
"My experience has been amazing! From the first day I walked in the door! Jessica is a fireball she got my insurance company inline, the other ladies there are amazing as well! As for Dr. Saman and Dr. Kelly I'm never going to see another ENT EVER! Thank You All for the great care and concern you have shown me! Pastor Charlie Biggurs"
- C.E. /
Facebook /
Apr 10, 2019
"Dr Saman is the best! I am so new to Botox and anything related to facial enhancement procedures. Dr Saman has been patient with me listening to my concerns, educating me what could be good solutions for my needs, he even tells me what I need and what I don't need. He is very authentic and fun to talk to! I am always happy with the results I get. I had Botox done and facial PRP injection and it has been a wonderful experience! His staff are super friendly and very good listeners! The office is very organized when it comes to scheduling. Love this place!"
- R.A. /
Google /
Feb 16, 2019
"great customer service, explains what is wrong and options on corrections well, saved my son's life"
- A.M. /
Facebook /
Jan 04, 2019
"I recommend Dr Saman to everyone if they are looking for reliable,talented, and perfeshional dr."
- L.D. /
Google /
Dec 22, 2018
Previous
Next